Date: April 12th, 2018
Working in the field of adolescent sexual and reproductive health, navigating the politics of public health is just part our typical day…we are used to raising flags because we're talking about—gasp—sex.
Often, the way to move past these concerns, though, is to focus on a shared goal. To that end, Healthy Teen Network developed an issue brief to provide information and insight into ways to communicate effectively with conservatives and to identify potential areas for common ground in support of adolescent sexual and reproductive health.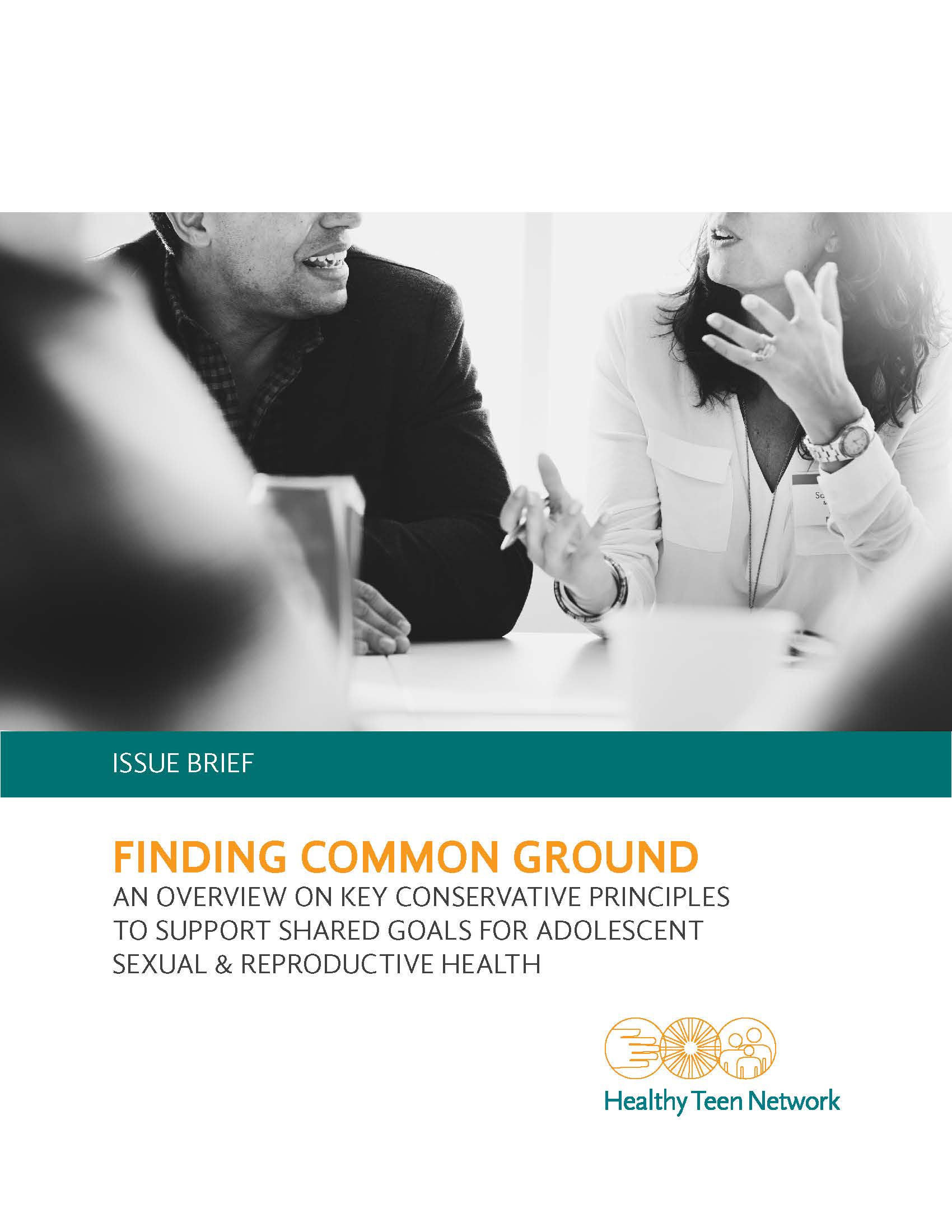 This issue brief is designed with the goal of increasing the capacity of adolescent health organizations to educate public policymakers at all levels of government on the imperative of sustaining and increasing public investment in positive sexual health education and services for adolescents and young adults. Related resources include a four-part webinar series, Navigating the Politics of Public Health, available online as recordings. These resources are relevant given the shifting landscape of public policy decision makers and the threats to public health investments that our nation's youth are facing.
Some of these opportunities for finding common ground may feel unsatisfying in comparison to our missions, visions, and guiding principles. Indeed, some may even say that the concept of "finding common ground" may not be possible without compromising these essential values. However, working toward shared goals is a practical strategy for holding our ground in support of young people. Finding common ground builds relationships and trust, and this is a necessary foundation for moving forward on more contentious issues.
Strategically, it's important to understand the underlying philosophy and ideas that drive policymakers. While strongly held ideologies will rarely be swayed with rhetoric, by understanding the fundamental principles of conservatism and key areas for agreement, there are opportunities for strengthening relationships with conservative elected officials and key stakeholders. With a focus on shared goals, we can work together to improve outcomes for all young people.
To that end, the issue brief outlines five principles, or key tenets, of conservatism:
Limited Government
Local Control
Parental Involvement
Anti-Abortion
Morality and Values
Explore more about these principles in the issue brief, along with suggestions and strategies for finding common ground for each.
The conflicts that arise between conservatives and liberals or progressives are largely ideologically based, and we seldom change one's ideologies through argument. Just as Healthy Teen Network will not diminish our commitment to young people, the use of evidence, comprehensive sexuality education, confidential access to contraceptive services or full-options counseling and care, nor do we expect monumental changes—at least in the near future—in conservative-leaning policymakers and key stakeholders. But perhaps over time, by searching for common ground and identifying shared goals, we may build relationships and establish trust, both critical in moving toward the changes we will continue to pursue. Regardless of the reality of today's political landscape, we have the potential to do more and do better for young people when we strive to identify and work toward shared goals.

About the Author
Gina Desiderio, Healthy Teen Network Director of Communications, has over 10 years of capacity-building and project management experience, supporting professionals to provide programs and services to empower youth to thrive.