Whether you are building support for a new program or service or working to sustain an existing program or service, it's important to build and maintain relationships with key stakeholders, as well as use effective messages and delivery strategies to mobilize diverse audiences to promote adolescent health.
Listed below are all relevant Healthy Teen Network public policy and advocacy resources.
Looking for more help? Let us know what you need to build support for your programs and services.
Case Studies: What Does It Take to Implement Quality Sexual Health Education?
May 24, 2018
In 2013, the Division of Adolescent School Health at the Centers for Disease Control and Prevention (CDC DASH) awarded 17 Local Education Agencies (LEA) funding to strengthen sexual health education in their schools, as part of their efforts to reduce HIV and other STI. Funded partners were charged with providing guidance, materials and professional development…
Read more
#NoGagRule
Healthy Teen Network stands in solidarity with the eight women's health care associations who issued a joint statement opposing the recent threats to Title X services.  The Trump Administration's proposal to extend the international 'gag' rule banning clinicians working in federally funded clinics from offering full options counseling to domestic Title X clinic patients is…
Read more
We're Standing Strong with Youth and Science
February 15, 2018
Well, the news has broken, and the lawsuit has been filed. You can read the full press release for the details, but to sum it up, today, Healthy Teen Network joined with eight other organizations in the filing of four lawsuits challenging the Trump-Pence administration for unlawfully ending the Teen Pregnancy Prevention Program (TPPP) grant…
Read more
The Healthcare Profession Is One of Service
February 1, 2018
The new Division of Conscience and Religious Freedom within the U.S. Department of Health and Human Services (HHS) was established by this administration to ensure religious liberty in health care and to punish doctors and hospitals that don't allow workers to express their religious objections. In other words, it places the rights of healthcare professionals above the rights of those they have agreed to care for.…
Read more
Growing Up LGBTQ+ Online: An Infographic
January 20, 2018
When approaching topics such as adolescent sexuality, technology, and social media, it is sometimes tempting for adults, even sexuality educators, to focus solely on the Internet Age's harmful and problematic byproducts for adolescent development and sexuality. In fact, hardly a newsstand exists without glossy-paged headlines screaming for attention with the threats of cyber-bullying, sexting, and…
Read more
#CDC7Words
December 19, 2017
In yet another strike to reason, science, and equality, there may now be seven words that federal agencies should avoid: Diversity Evidence-Based Entitlement Fetus Science-Based Transgender Vulnerable Much of the media attention is now circling around whether this was an act of censorship from the U.S. Department of Health and Human Services, in their oversight…
Read more
Thriving at the Intersection
December 15, 2017
This resource will be available online in late 2018.
Read more
Equipping Youth to Succeed: Power Through Choices (Infographic)
December 6, 2017
Power Through Choices is the only sexual health program designed with and for youth in foster care and other out-of-home care. And it's proven effective. Healthy Teen Network shared the curriculum's evaluation results at our 2018 national conference in a poster session. View the infographic poster. And for more background, check out the related blog…
Read more
Honoring Senator Delores G. Kelley & Delegate Ariana Kelly for their Service
September 29, 2017
Healthy Teen Network is honored to recognize the work of Senator Delores G. Kelley and Delegate Ariana Kelly with the 2017 Spirit of Service Award. Working with Planned Parenthood of Maryland, Senator Delores G. Kelley and Delegate Ariana Kelly co-sponsored The Maryland Contraceptive Equity Act. Signed into law by Maryland Governor Larry Hogan in May…
Read more
Finding Common Ground: An Overview on Key Conservative Principles to Support Shared Goals for Adolescent Sexual and Reproductive Health
September 14, 2017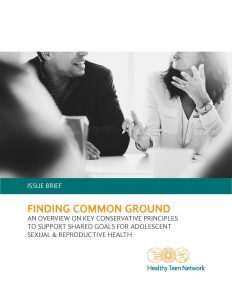 A shifted landscape of new or strengthened power players (particularly those who lean conservative) at all levels of government, combined with threats to public health investments that our nation's youth are facing, necessitates a reinvigorated call to public policy action by individuals and organizations that support youth and their families. This issue brief is a…
Read more