How to Talk About Dual Protection
March 31, 2020
Have you seen the rising rates of STIs and falling rates of pregnancy? Do you know how to respond to a young person who is resistant to using condoms? Designed for educators and clinicians, this elearning gives you the information and skills you need to address the increasing rates of STIs, whether you're working in…
Read more
Public Policy Recommendation: Assist Youth Who Are Pregnant and Parenting
February 13, 2020
Topic Supports for Youth who are Pregnant and Parenting Subjects Public Health, Human Services, Secondary Education, Higher Education Recommendation Reauthorize the Pregnancy Assistance Fund program Congressional Action Request U.S. Senators: Co-sponsor the Pregnancy Assistance Fund Reauthorization Act (S. 2296). Urge leaders of the Health, Education, Labor, and Pensions Committee to reauthorize PAF along with…
Read more
Public Policy Recommendation: Increase Adolescent Health through School-Based Approaches
The Division of Adolescent and School Health (DASH) within the U.S. Centers for Disease Control and Prevention (CDC) collaborates with state, territorial, tribal, and local education agencies to monitor youth health behavior, implement HIV and STI prevention programs, and provide expert guidance to schools on quality health education, school-based and school-linked health services, and safe and supportive school environments.
Congress appropriated $33.1 million to CDC DASH in FY 2020. Funding at this level allows CDC DASH to reach about two million students annually through its school health program as well as conduct important public health research and surveillance work. The President's FY 2021 budget request for CDC suggests (but is not explicit on) level funding for DASH.
Congress should increase the appropriation for CDC DASH to at least $100 million in FY 2021. Funding at this level would enable DASH to add many more local education agencies to its effective school health program, thereby improving health of most of the nation's middle school and high school students.
Read more
Internet Advertising to Recruit Youth
August 6, 2019
What's all the hype about internet advertising? Is it right for your project? Not sure where to start, but you want to start now? Tried it before but with mixed results? Need some tips to boost your efforts? Follow along as our Director of Innovation and Research, Genevieve Martínez-García, shares lessons learned for how to…
Read more
Youth-Friendly Services Assessment Tool and Guide
June 17, 2019
This resource includes an interactive tool, including a guide and complete bibliography, to help you assess if your clinic delivers services in a youth-friendly way. Offering youth-friendly services means that clinical services are provided in a way that makes it easy and comfortable for youth to seek out and receive the services they need. Key…
Read more
Growing Up LGBTQ+ Online: An Infographic
January 20, 2018
When approaching topics such as adolescent sexuality, technology, and social media, it is sometimes tempting for adults, even sexuality educators, to focus solely on the Internet Age's harmful and problematic byproducts for adolescent development and sexuality. In fact, hardly a newsstand exists without glossy-paged headlines screaming for attention with the threats of cyber-bullying, sexting, and…
Read more
Equipping Youth to Succeed: Power Through Choices (Infographic)
December 6, 2017
Power Through Choices is the only sexual health program designed with and for youth in foster care and other out-of-home care. And it's proven effective. Healthy Teen Network shared the curriculum's evaluation results at our 2018 national conference in a poster session. View the infographic poster. And for more background, check out the related blog…
Read more
Recruiting? Facebook can help: Using social media to recruit participants (Infographic)
December 3, 2017
This infographic presents lessons learned from using social media channels and advertising channels to recruit participants into research studies and health programs at the 2018 American Public Health Association (APHA) Annual Meeting. The social media and internet advertising channels included in the poster are Facebook, Instagram, Twitter, Google Ad Grants, Grindr, and Scruff. The infographic…
Read more
Likes, Tweets, and Hashtags: Harnessing the Power of Social Media for Study Recruitment
November 7, 2017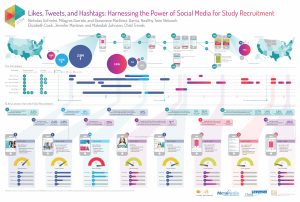 Social media and internet advertising continue to prove promising frontiers for the recruitment and engagement of participants for programs, studies, and campaigns. Last month, Healthy Teen Network and Child Trends gave a poster presentation at our annual national conference, sharing key lessons from the digital recruitment efforts of the Pulse study, a randomized control trial…
Read more
Navigating the Politics of Public Health: Finding Common Ground in Support of Adolescent Sexual and Reproductive Health
August 22, 2017
This four-part webinar series is a compainion piece to the issue brief, Finding Common Ground: An Overview on Key Conservative Principles to Support Shared Goals for Adolescent Sexual and Reproductive Health. Participants will learn how to advocate in support of adolescent sexual and reproductive health with conservative-leaning policymakers and key stakeholders, including… strategies for knowing…
Read more