Youth-Friendly Services Assessment Tool and Guide
June 17, 2019
This resource includes an interactive tool, including a guide and complete bibliography, to help you assess if your clinic delivers services in a youth-friendly way. Offering youth-friendly services means that clinical services are provided in a way that makes it easy and comfortable for youth to seek out and receive the services they need. Key…
Read more
Youth 360⁰: The Game
October 6, 2016
At our 2015 conference, we unveiled Youth 360⁰: The Game, and we were thrilled to see attendees share with each other all the ways they are "doing" Youth 360⁰. In response to the great demand, we have made Youth 360⁰: The Game available to you for free download (get the zip file below, with everything…
Read more
Youth 360°: How & Where We Live, Learn, & Play Matters (Presentation Slides & Audio)
November 15, 2016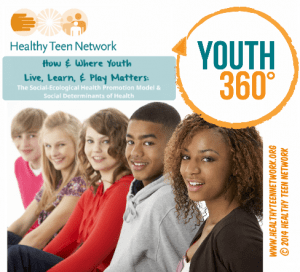 Check out this presentation, with audio, to introduce the concept of Youth 360°, holistic health promotion, social determinants of health, and the social-ecological model:
Read more
Youth 360°, Explained
April 26, 2017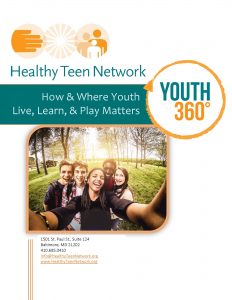 We promote a unique and holistic perspective—Youth 360°—to improve the health and well-being of young people. How and where youth live, learn, and play matters: we know social determinants of health are mostly responsible for health inequities and disparities. This short resource succinctly explains the Youth 360° approach.
Read more
Youth 360° In Action: Recorded Hangout
August 2, 2017
What determines how long we live…If we thrive…How healthy we are? Is it…What we do…Who we are…Where we live…Our families? How and where we live, learn, and play matters. We cannot expect to significantly impact health outcomes and address health disparities without considering these critical factors, or social determinants of health, that shape our well-being. Healthy…
Read more
Youth 360°
May 1, 2018
How Do YOU DO Youth 360⁰?Position StatementsMore ResourcesWhat is Youth 360°? Healthy Teen Network believes that adolescent sexual and reproductive health is a social justice issue with public health impacts. These impacts are confounded by how and where youth live, learn, and play and require a holistic Youth 360⁰ approach to achieve equity. We cannot…
Read more
Young Parents Logic Model, Revised (Coming Soon)
February 20, 2020
Healthy Teen Network is currently working to revise the original Resource Kit for Working with Young Families, developed in 2008. The revised logic model will be available soon. The Young Parents Logic Model is a tool designed to help professionals and organizations think about how to design and improve their programs and services for young people who…
Read more
We've Come a Long Way in 25 Years – We Keep Doing the Impossible
October 5, 2014
Dr. Douglas Kirby's Keynote Address at Healthy Teen Network's (then NOAPPP) 25th Annual Conference. In 2004, the National Organization on Adolescent Pregnancy, Parenting and Prevention (NOAPPP) was busy deciding how best to celebrate 25 years as a national leader in the field of teen pregnancy, parenting and prevention. We embraced Sankofa, a Ghanaian concept connoting…
Read more
Volt20: 20 Questions to a Healthy Future
March 19, 2019
Volt20 is the ultimate health resource guide every young person needs to help them thrive. Volt20 helps youth think about their lives, decide what they like about their lives right now, what they wish were different, and plan for a healthy future. Volt20 helps adolescents and young adults, up to 24 years old, focus on what's going on with their bodies, minds, relationships, and the places…
Read more
Unlocking the Secrets of Classroom Management
May 11, 2018
What student behaviors do you find most challenging? What techniques can you use to respond to these behaviors? Explore essential classroom management techniques for the sex education classroom. Take a peek at a few different kinds of sex education classrooms, as well as number of challenging behaviors and some techniques to address them. Complete this…
Read more