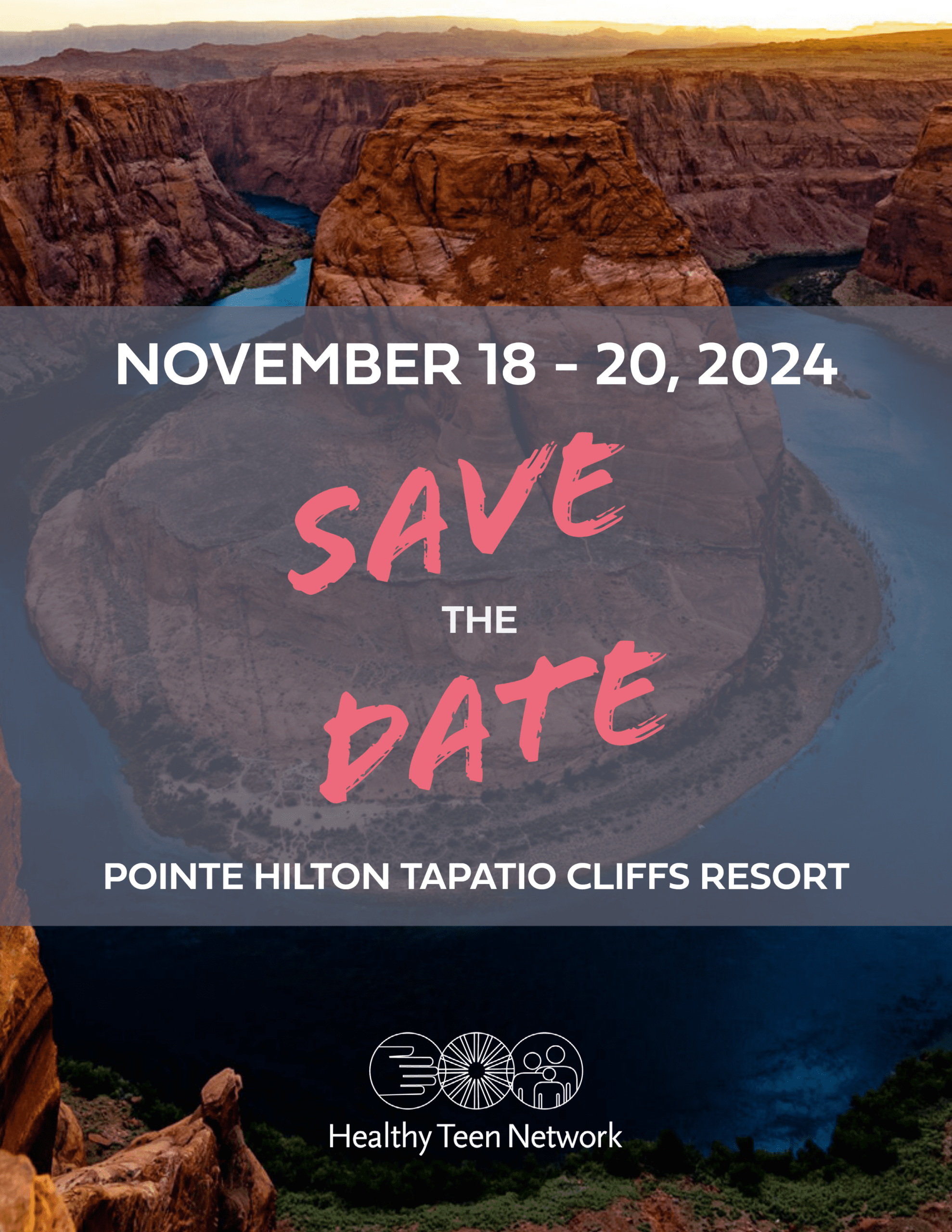 Dare to Dream of a New Era
#HealthyTeen22
October 17-19, 2022 | Miami
In just two years' time, the world was made anew. We reinvented the ways we live, the ways we love, the ways we learn, and the ways we work.
As we enter this new time for humanity, let's come together to make sure the best parts of these new ways are here to stay. Let's chart new bounds for ourselves and our work. Let's recommit to the pursuit of a just, more perfect world for everyone, where young people have the freedom to become who they want to be.
At #HealthyTeen22, we'll cultivate healing—inwardly and outwardly. We'll reflect on this young decade's renewed calls for racial justice and remarkable technological growth. And we'll share how embracing flexibility and ambiguity liberated us to try new things.
We'll do all this not because this is easy, but because this is our charge. Freed from the can'ts and won'ts of yesterday, we dare to dream of a new era.
Welcome back, friends. And welcome to Miami.
Guess what? We have an app for that...the 2022 Conference App is Live!
Download the conference app to check out this year's breakout sessions, start making your schedule, and fill out your profile to connect with fellow attendees. Click the corresponding button to go directly to your app store to download the conference app or you can search in your app store for HealthyTeen22.
Once you have downloaded the app to your smartphone, you'll be asked to log in and create your attendee profile. Enter your name and email address to get started. Then the app will send you an email with a six-digit verification code, enter the code, and you're in! You can continue to set up your attendee profile or check out the rest of the app.
If you come across something in the app and are not quite sure how to proceed, head to the "More" button and find the FAQ section. We've got how-to instructions on all the features so you can get the most out of the app.
The "Must-Attend" Conference
Each year, the Healthy Teen Network Conference is the go-to network for connecting youth-supporting professionals with the opportunities, training, and tools they need to empower the next generation to lead healthy and fulfilling lives. Our vast membership network of more than 5,600 affiliates is made up of diverse adolescent sexual and reproductive health professionals. 
At Healthy Teen Network, we know youth-supporting professionals do their best when they're connected to great opportunities and resources—and with others working in sexual and reproductive health. And when they are well-supported, we see more positive outcomes for the youth they serve.
As a conference sponsor, you can join us in doing this important work.
What exhibitors have said
Sponsorship is win-win for everyone. You get exposure to conference attendees; they get the capacity-building sessions and networking opportunities they need to provide the very best sexual health education and services. Learn more.
Looking to make a big impact with direct support for our attendees? Consider paying it forward and helping youth-supporting professionals attend #HealthyTeen23. Want to help us cultivate healing for our attendees? Customize this sponsorship by providing a meditation or yoga session or hand out wellness gift bags to attendees, the possibilities are endless! Learn more.
Grab the spotlight with these exhibiting and advertising sponsorship opportunities. Attend the conference and showcase your services and resources by hosting an exhibit table, with our all access pass. Can't make it to Portland? Send us your content and we'll share it out on our social media platforms. Learn more.
Meet our 2022 featured speakers
We said it and we meant it…we dare to dream of a new era, and we want to make sure the best parts of the new ways we've been doing things in a COVID-world are here to stay. We have worked hard to find people who have been doing amazing work and we can't wait to share it with you at #HealthyTeen22.
We are also pleased to announce that our opening keynote on Monday, October 17 is researcher, educator, author of Black & Sexy: A Framework of Racialized Sexuality, and host of The Sex Ed of Blackfolk w./ Dr. G. podcast Dr. Tracie Gilbert.
Dr. Gary Barker, CEO and founder of Equimundo, Ashoka Fellow, and winner of the Voices of Solidarity Award from Vital Voices for his work to engage men for gender equality, will join us on Tuesday, October 18.
Our closing session on Wednesday, October 19 will be a panel moderated by Dr. Elissa Barr, Professor of Public Health and a member of the Florida Healthy Youth Alliance, which champions the sexual and reproductive health and rights of adolescents across the state.
We are excited to host Pre-Conference Institutes again this year—which includes bringing back the very popular Sexuality Attitudes Reassessment with Dr. Tanya Bass and Dr. Karen Raynes—as well as intensive full-day sessions, and a half-day session on different topics in the field.
Check out more information on our speakers and the agenda. The full list of workshop descriptions is now available!
Please remember to check out the fine print; it has information about payment and refund deadlines, what is included with registration, and recommended travel times.
*Students will be asked provide proof of full-time enrollment for the Fall 2023 semester when it is available next year.
You've got questions. We've got answers.
What's Included?
Pre-Conference Institutes
Pre-Conference Institutes have limited capacity, and your spot is secured upon registration and payment. Without a paid registration, Healthy Teen Network cannot guarantee that you will be able to attend your preferred session. If we are unable to fulfill your request, you may choose another session (if available), or we will refund your money.
Payment Deadlines
All payments made by check or purchase order must be received by 9/15/2023. After that date, you must pay by check or credit card on-site to gain admittance to the conference. Attendees with outstanding balances will be refused admission. Our new mailing address is PO Box 741, Churchville, MD 21028.
Questions
Please contact Jenna Ayres if you have a question about conference registration. For hotel-related questions, please call the Hilton Portland Downtown at 503-226-1611. For more information about Portland, please visit www.travelportland.com.
Recommended Travel Times
We often get asked about when the activities begin and end so participants can plan their travel. We recommend:
Arrive in Portland on Sunday, October 1, if you plan to participate in a Pre-Conference (please note the start time for your registered session).
Arrive in Portland by 2:00 PM PT on Monday, October 2 for the conference welcome and opening session at 4:00 PM PT.
Schedule departure flights for 6:30 PM PT or later on Wednesday, October 4 (the final session ends at 4:00 PM PT).
Student Registrations
To receive the student registration rate, Healthy Teen Network requires that student registrants provide some type of verification that they are enrolled, full-time, in a secondary, undergraduate, or graduate degree program for the Fall 2023 semester. A letter from the department chair, enrollment verification letter, or any documentation with the school's official seal/emblem is acceptable. Email documentation to Jenna Ayres.
Lead Presenter Discount
Lead presenters (one per session) receive a 15% discount on the main conference registration fee and will receive a unique discount code to use when registering. Co-presenters do not receive this discount.
Refund Policies
General Refunds
All requests for refunds must be made in writing (email is sufficient) and dated on or before 9/8/2023. An eligible request will entitle the registrant to a full refund less a $50 processing fee. In lieu of requesting a refund, an organization may send someone else in the place of the registrant if the initial registrant is unable to attend, and if they notify Healthy Teen Network in writing by 9/22/23.
Sponsor Refund Policy
The acceptance and confirmed assignment of space shall be subject to the regulations outlined on the website. All requests for refunds must be made in writing (email is sufficient) and dated on or before 9/8/2023. An eligible request will entitle the registrant to a full refund less a $50 processing fee. In lieu of requesting a refund, an organization may send someone else in the place of the initial registrant if that registrant is unable to attend and if they notify Healthy Teen Network in writing by 9/22/2023.
We reserve the right to reject any registration, at our discretion.
Register now for #HealthyTeen23 at 2022 pricing! We are offering these flash sale prices until 11/18/22 at 12:59 PM ET. Take advantage before they are gone!
Thank you to our #HealthyTeen22 sponsors
Disclaimer: Inclusion or identification of organizations, individuals, information, content, and materials does not constitute a recommendation or endorsement.
Discover the magic of the Network.