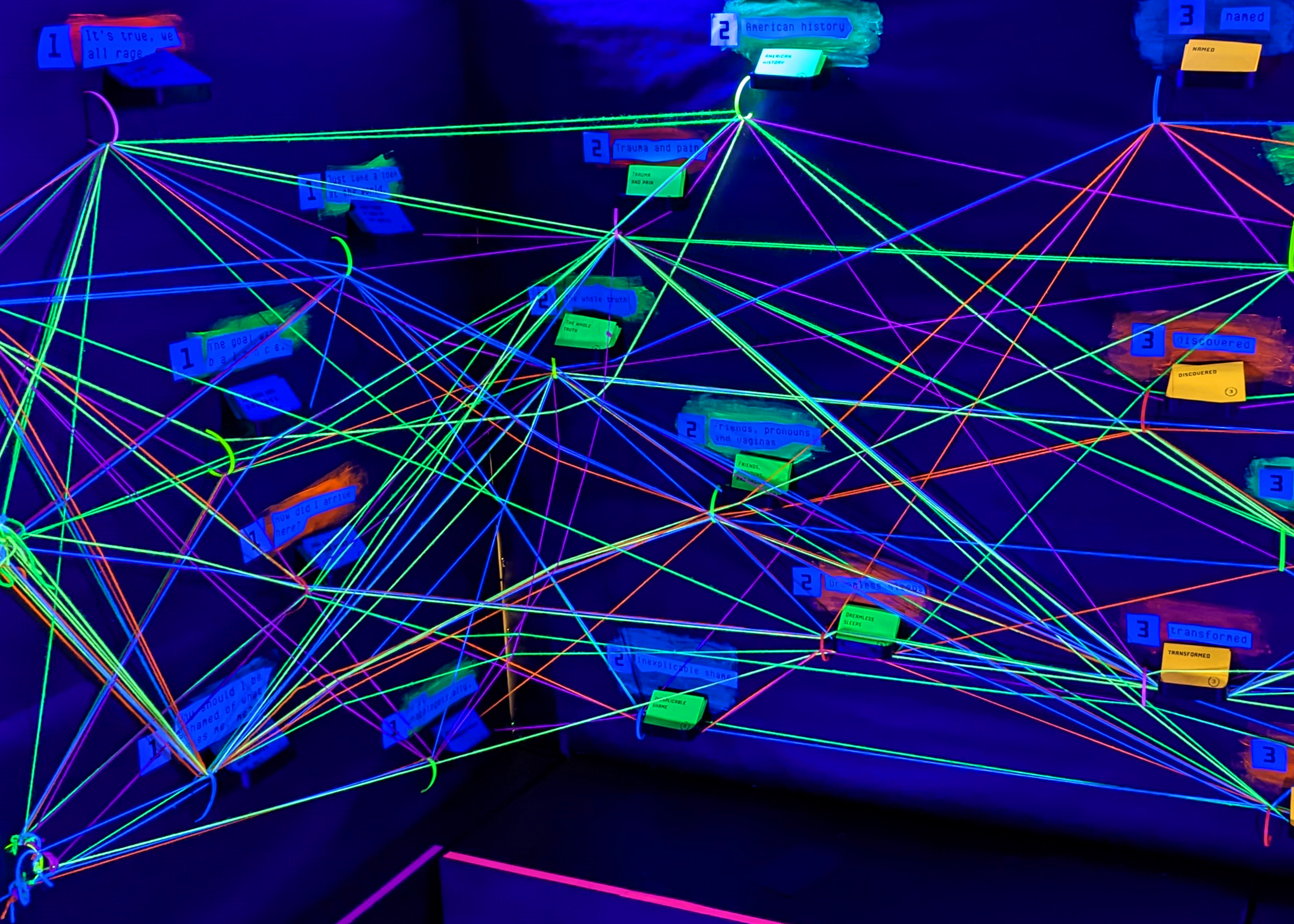 Calling all Artists, Designers, Makers, Studios, and Collectives to #HealthyTeen23 in Portland, OR
You're invited to submit an installation for this year's conference in Portland, Oregon
Healthy Teen Network is inviting artists, designers, makers, studios, and collectives to #HealthyTeen23. This year as we Take Care and Take Action, we'll host up to three experiential installations that provoke discovery, connection, or reflection. This unique platform allows you to share your work with hundreds of sexual health education and care professionals from across the United States.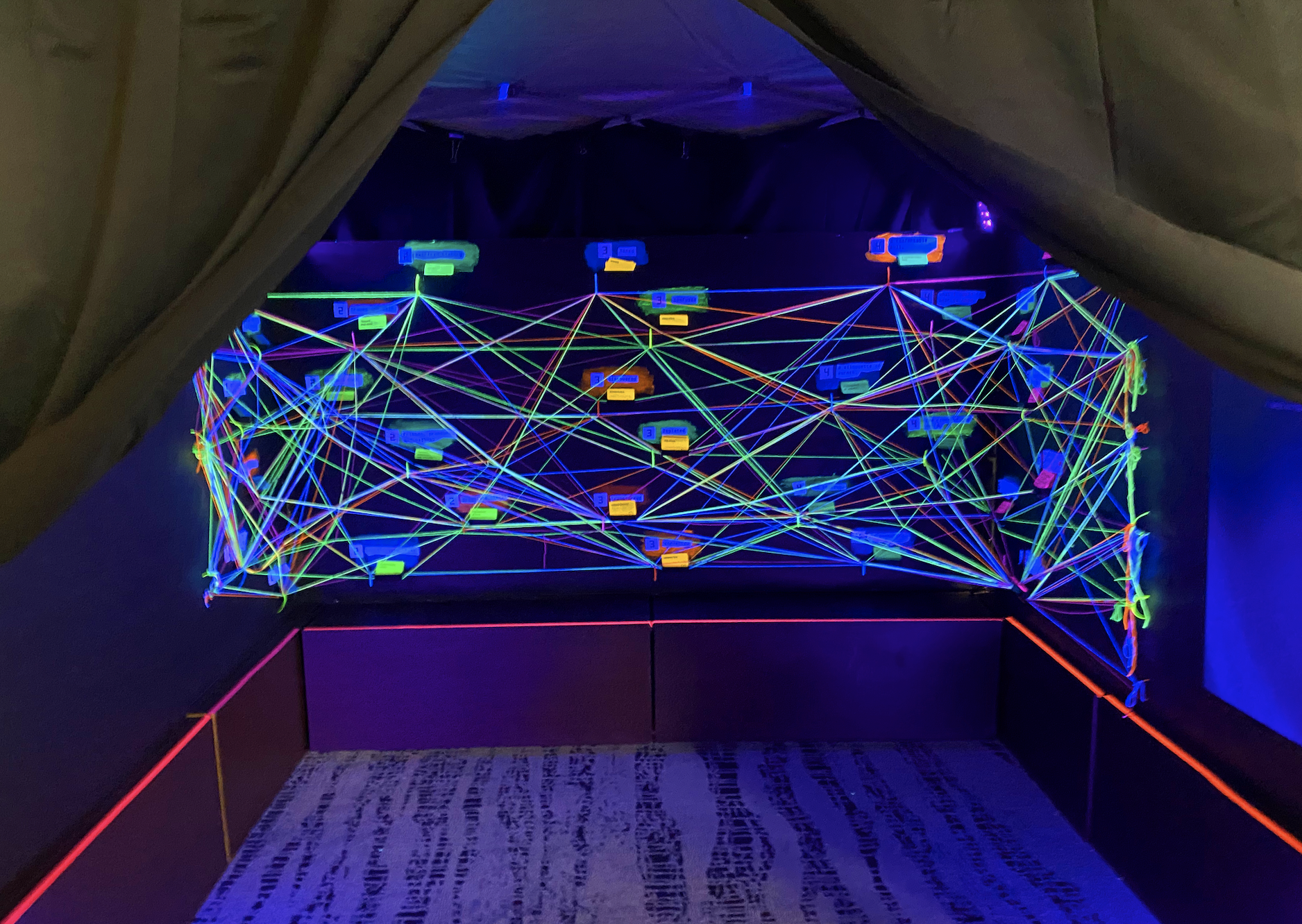 Healthy Teen Network premiered The Machine of Forgotten and Remembered Passages during #HealthyTeen22 in Miami, Florida. Conference-goers were invited to see what books were banned in schools across the U.S. during the last year and tailor, with string, a unique banned passage of their very own. By stringing florescent yarn through loops, participants chose banned book "snippets" for their unique passages. Upon exiting, cards allowed them to decode from which real-life banned books their passages originated. A lounge with the books outside The Machine was available for participants.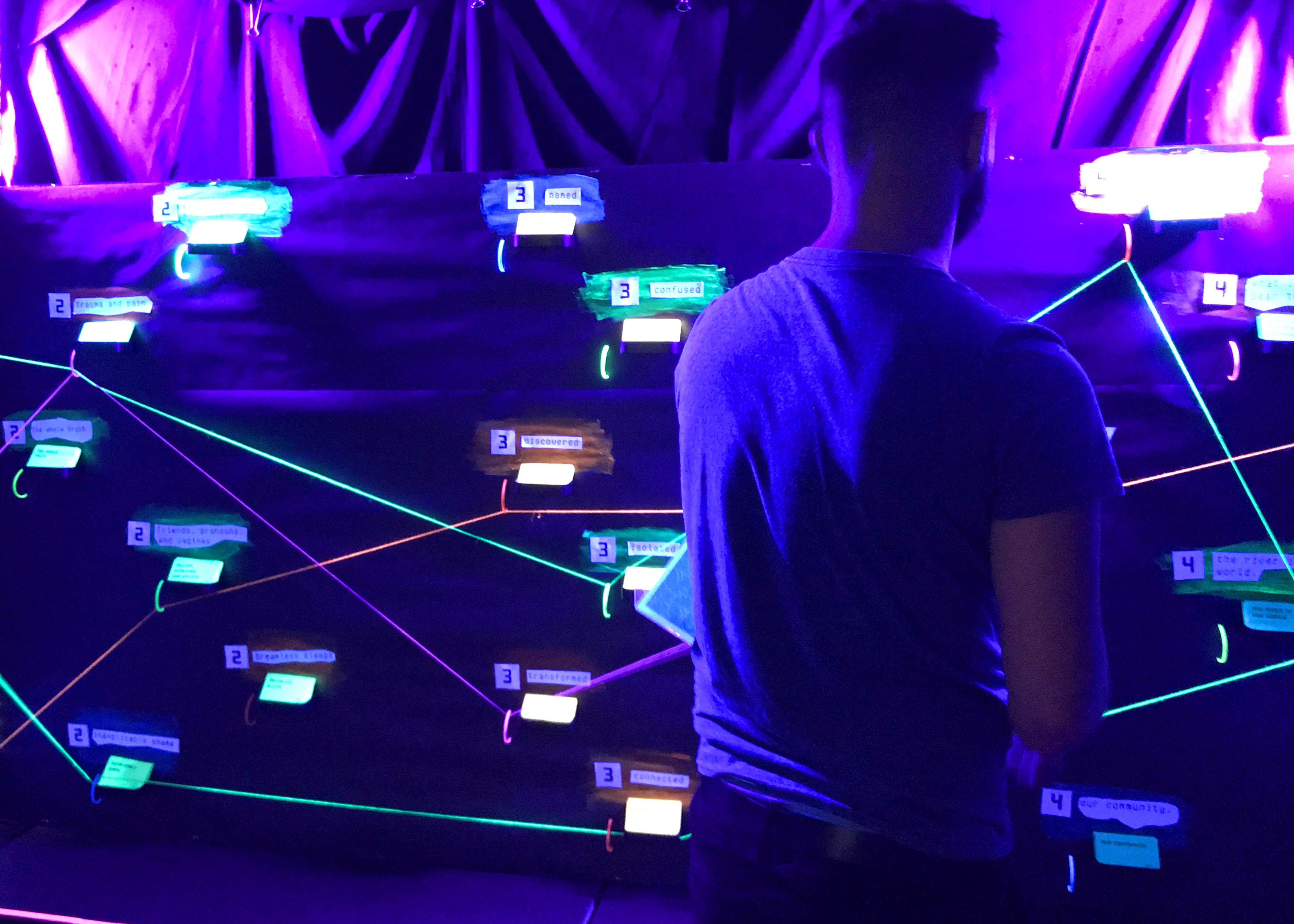 PHOTO CREDIT: PATRICIA NATALIE
The Machine was an immersive, tactile experience that allowed participants to reflect on the realities of contemporary book banning.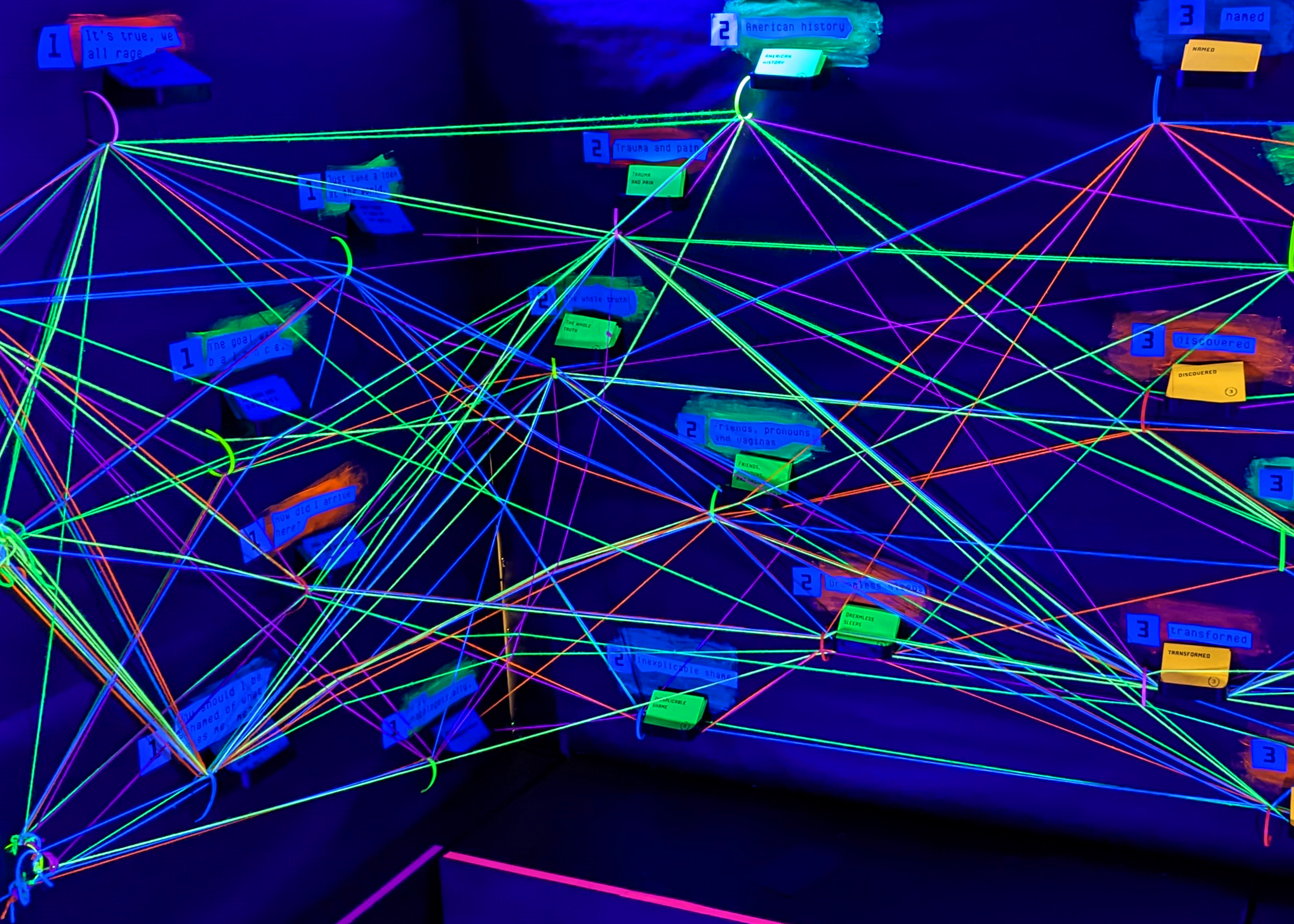 PHOTO CREDIT: GINA DESIDERIO
A black-out tent and curtains, black lights, pegboards, paper, neon zip ties, fluorescent yarn, glow-in-the-dark paint, and a Bluetooth speaker playing ambient sounds made The Machine possible. A hot glue gun and glue, a staple gun and staples, stamps and ink, and safety scissors were used on site for construction, implementation, and tear down.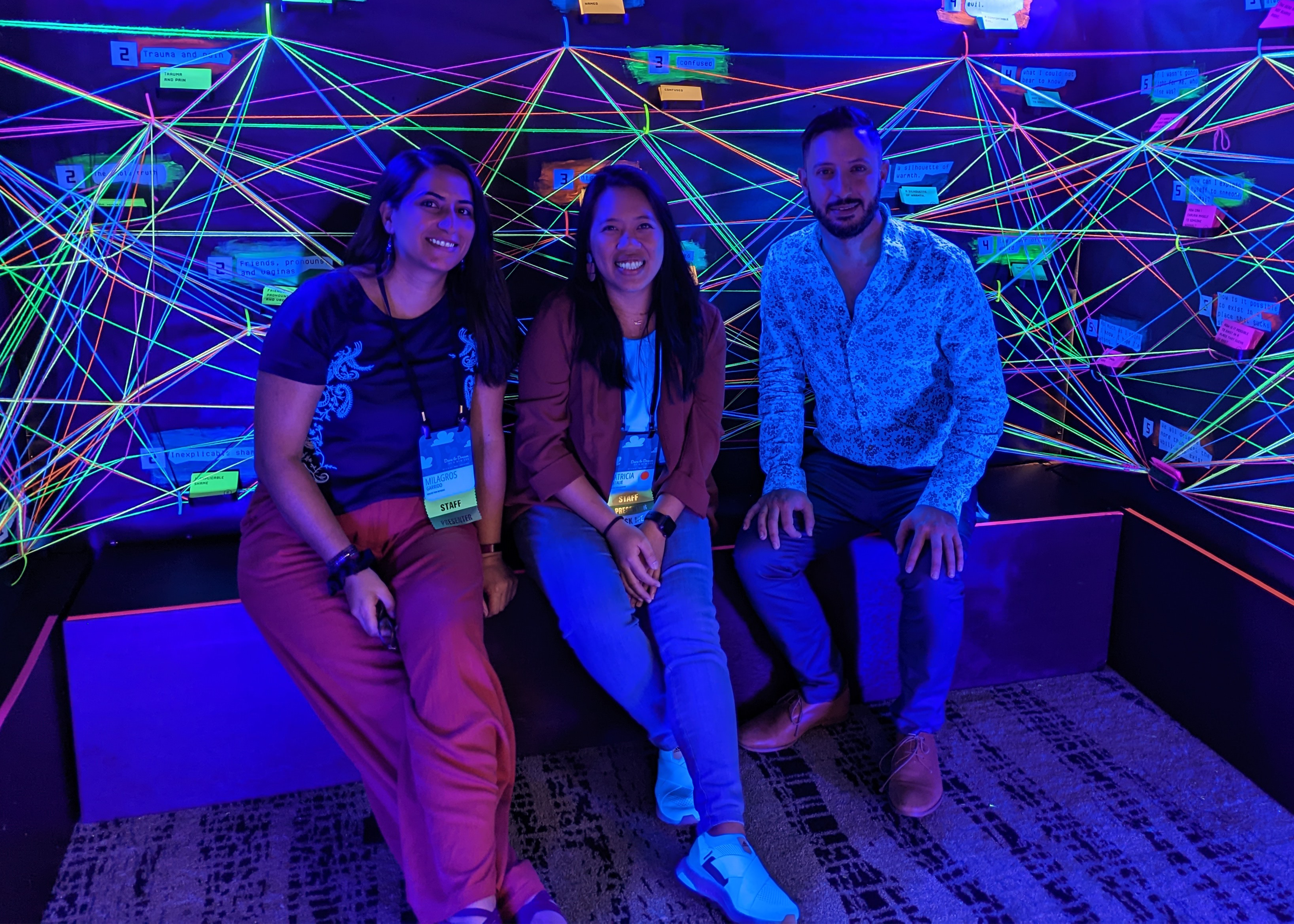 PHOTO CREDIT: GINA DESIDERIO
Looking forward to #HealthyTeen23, we want to build on the success of The Machine by inviting you to bring your installation to Portland. Share your idea with us today to get started. 
FAQs 
What is the maximum size allotted for an installation?
The maximum size for an installation is 8' x 8' x 8'
What will Healthy Teen Network provide?
Healthy Teen Network will provide an 8' x 8' x 8' space indoors, and, if requested, access to one power receptacle. Artists are responsible for shipping/bringing all materials and tools needed.
My proposed installation is self-led; do I need to staff it?
All installations, including self-led installations, must be staffed with a minimum of two people during designated times across the 3-day conference. Artists are responsible for staffing their installations. This may include one 2-hour session and up to 4 additional 30-minute blocks.
How much time is allotted for build and tear down?
Artists have up to 5 hours for build on October 2, 2023 and up to 3 hours for tear down on October 4, 2023
Are the names and descriptions submitted in my proposal final?
No, you'll have the opportunity to evolve your concept.
Who can I contact with additional questions?
Get in touch with us by emailing innovation@healthyteennetwork.org.
What if an installation isn't quite right for me?
No worries! If an installation isn't the best fit for you, you may want to consider submitting a workshop or roundtable proposal or boosting your brand with one of our sponsorship opportunities.
What's the deadline?
We are accepting installation proposals through June 15, 2023.
At Healthy Teen Network, we believe that every young person has a right to live their authentic sexuality. And we see you, the professionals and caring adults, helping them do this. We know you do your best when you're connected to great opportunities and resources. That's why we're here...to help make those connections and support you. Read more about us.