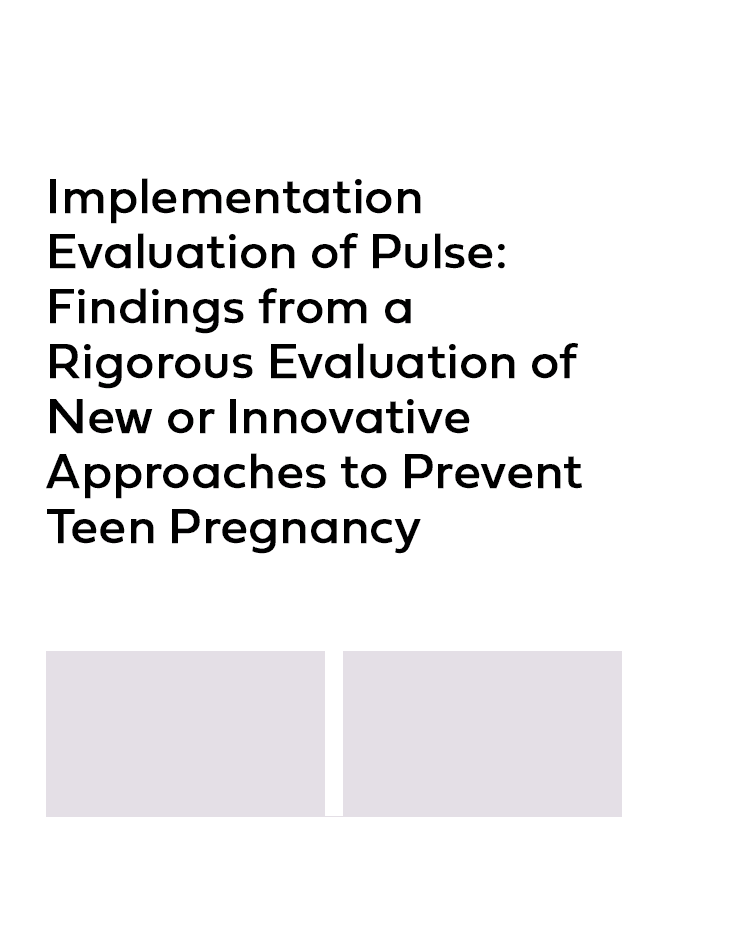 Implementation Evaluation of Pulse: Findings from a Rigorous Evaluation of New or Innovative Approaches to Prevent Teen Pregnancy
This implementation report provides details on the recruitment procedures and implementation findings of an evaluation of Pulse, a web–based mobile health application (app)accessible through smartphones and tablets. The goals of Pulse are to increase birth control use and clinic use and ultimately decrease teen pregnancy. Pulse provides comprehensive, medically accurate sexual and reproductive health information to young women through engaging interactive and multimedia features.
Pulse was evaluated through an individual-level randomized controlled trial. In total, we randomly assigned 2,317 women to the Pulse intervention group or to the Pulse comparison group over a two-year period. The comparison group was directed to the Pulse "Comparison" app which was custom-built to function similarly to the Pulse intervention app and had the same name and branding. The primary behavioral outcomes examined through this study included unprotected sex (sex without using any contraceptive method; sex without using hormonal or long-acting contraceptive methods); hormonal or long-acting reversible contraceptive use among those who were sexually active at baseline; current contraceptive use; contraceptive use frequency in last six weeks among those who were sexually active at baseline; and visiting a clinic for sexual and reproductive health services.
This implementation report provides an in-depth explanation of the online recruitment process. The report then provides findings on adherence, dosage, quality, and contextual factors of the implementation. Implementation findings are primarily based on text message data, app usage data, post-test survey data, and a small number of in-depth interviews.
Pulse was developed by Healthy Teen Network and MetaMedia Training International. The evaluation was led by Child Trends and supported by Ewald & Wasserman Research Consultants.
Presentations on Social Media Recruitment
Presentations about Pulse and Research
Presentations on MHealth and Technology
Discover the magic of the Network.