Date: October 8, 2010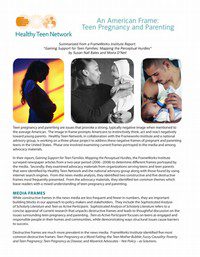 Interested in gaining more support for pregnant and parenting teens? Tired of seeing them maligned in the media? Healthy Teen Network is working to reframe pregnant and parenting teens in the US to change public opinion and gain political support. The FrameWorks Institute in collaboration with Healthy Teen Network assessed current frames in the media and advocates materials.  We have synthesized their full report, Gaining Support for Teen Families: Mapping the Perceptual Hurdles, and added some immediate Action Steps you can take to support this group of vulnerable families.

Citation: Healthy Teen Network. (2010). An American Frame: Teen Pregnancy and Parenting. Baltimore: Author.